PureFlow AirDog -
Raptor 4G Lift Pumps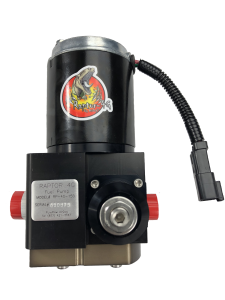 The Raptor-4G Lift Pump provides more fuel than stock for all your performance needs! The Raptor-4G is our entry level fuel system that delivers performance on a budget. This pump is fully adjustable from 7-70psi. Prevent fuel starvation with the Raptor 4G! These pumps feature a built in adjustable Regulator, no return line needed, flow rates of 100 and 150gph, and easy installation.
Browse Raptor 4G Lift Pumps
Products
Description:
This is the Raptor-4G RP-150 fuel system for the 1999-2003 Ford 7.3L Powerstroke. This system replaces the factory frame rail mounted fuel pump. This system mounts to the frame rail using the...
More Details »
MAP Price: $529.00!
If the product is purchased under MAP Price, the warranty is VOID!