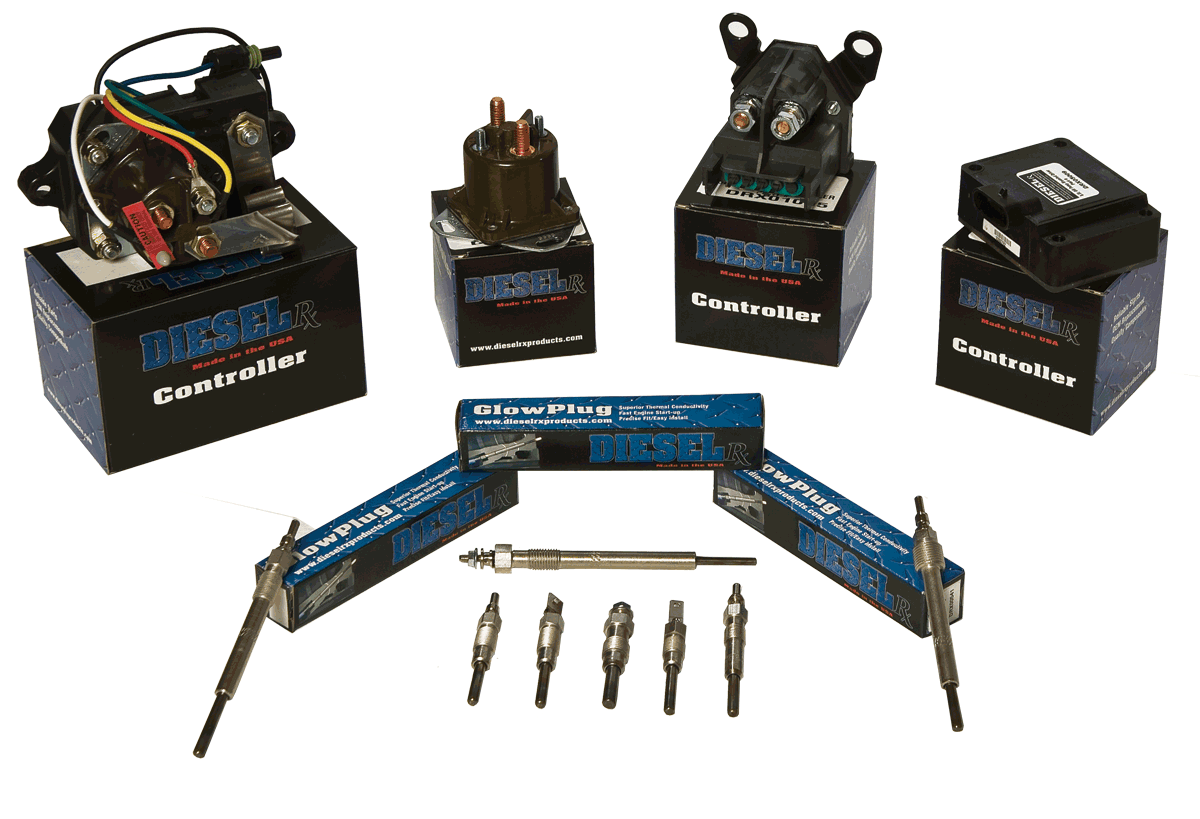 DieselRx® manufactures and supplies the most rugged and dependable glow plugs and glow plug controllers for pick-up trucks in the industry. DieselRx® also provides Pump Mounted Drives / PMDs for Chevy pick-up truck diesel engines. Also, for Class 8 trucks, DieselRx® manufactures and supplies the DRX-Heavy Duty Module, which provides better fuel mileage and better engine performance.
---
Glow Plugs
DieselRx® manufactures and supplies glow plugs, both metal sheath and open coil type, for most major brands and diesel engine manufacturers worldwide. DieselRx® is the leading U.S. manufacturer of glow plugs for the automotive industry with an extensive line of glow plug models to choose from.
Only glow plug made in the U.S.A
Allows for faster engine startups
Helps reach optimum temperatures quickly
Controls current draw for rapid heat of coil
Resists corrosion and vibration
Superior electrical insulation and high thermal conductivity
Protects coils from exhuast gas damage
Precise engineering that allows for easy installation

---
How Do They Work:
Our dual coil design allows for a faster heat up and stabilized temperature. Watch the video below and see the proof for yourself.
---
The Results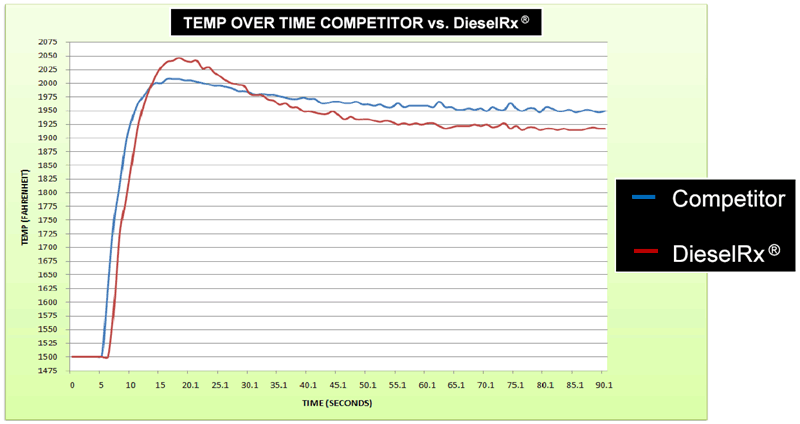 As can be seen in this graph, the DieselRx® glow plug peaks approximately 40°F higher during the initial in rush of current. The lower stabilized temperature translates to a longer lasting glow plug.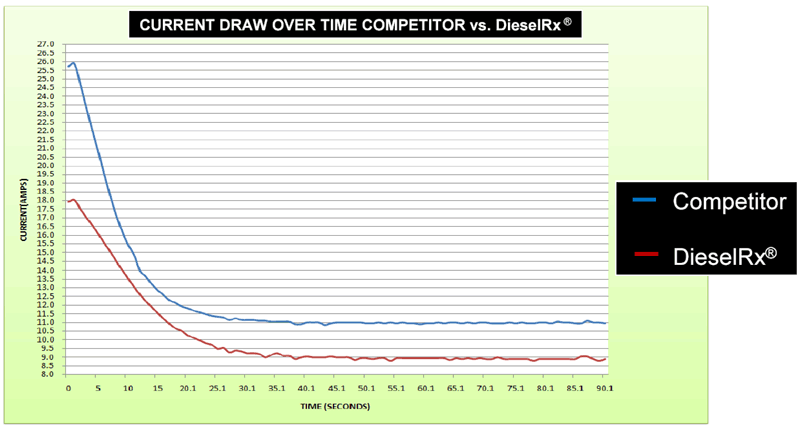 The competitor's plug requires 8 amperes more in the initial rush and 2 amperes more at the steady state of operation. The higher efficiency of the DieselRx® glow plug is attributed to our innovative manufacturing process and quality standards.
---
Glow Plug Controllers
DieselRx® supplies top quality glow plug controllers for various applications. Many often overlook the importance of these controllers and tend to only replace the glow plugs after failure. Sometimes it is a damaged controller that is the root cause of frequent glow plug failure.
Our Glow Plug Controllers offer:
Higher quality internal components
Better insulation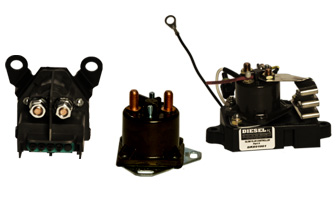 These attributes allow them to be more durable and more reliable. Next time you replace your glow plugs, make sure to replace your controllers as well.
---
Diesel RX Machined Parts
Diesel Rx is continually improving to add fuel system accessories and other components to the lineup. These are upgrade parts for AirDog fuel systems and others.
Current Offerings:
Diesel Rx Universal Fuel Sump
Diesel Rx Fuel Pressue Splice
Diesel Rx Adjustable Diaphragm Fuel pressue Regulator
---
Diesel Rx Fuel Pressure Splice
Allows a fuel pressure sending unit to be installed anywhere along our 1/2" fuel line. No more cutting and splicing sending unit wires to reach our fuel pumps!

---
Diesel Rx Adjustable Diaphragm Fuel Pressure Regulator
Do you have a diesel fuel system that does not have a regulator and needs one, or an AirDog I that you want to upgrade to have full adjustability of your fuel pressure? Look no further than our Diaphragm Fuel Pressure Regulator! This regulator is adjustable from 7 to 70psi.
Note: for AirDog I, the ball and spring regulator will need to be removed to run this regulator.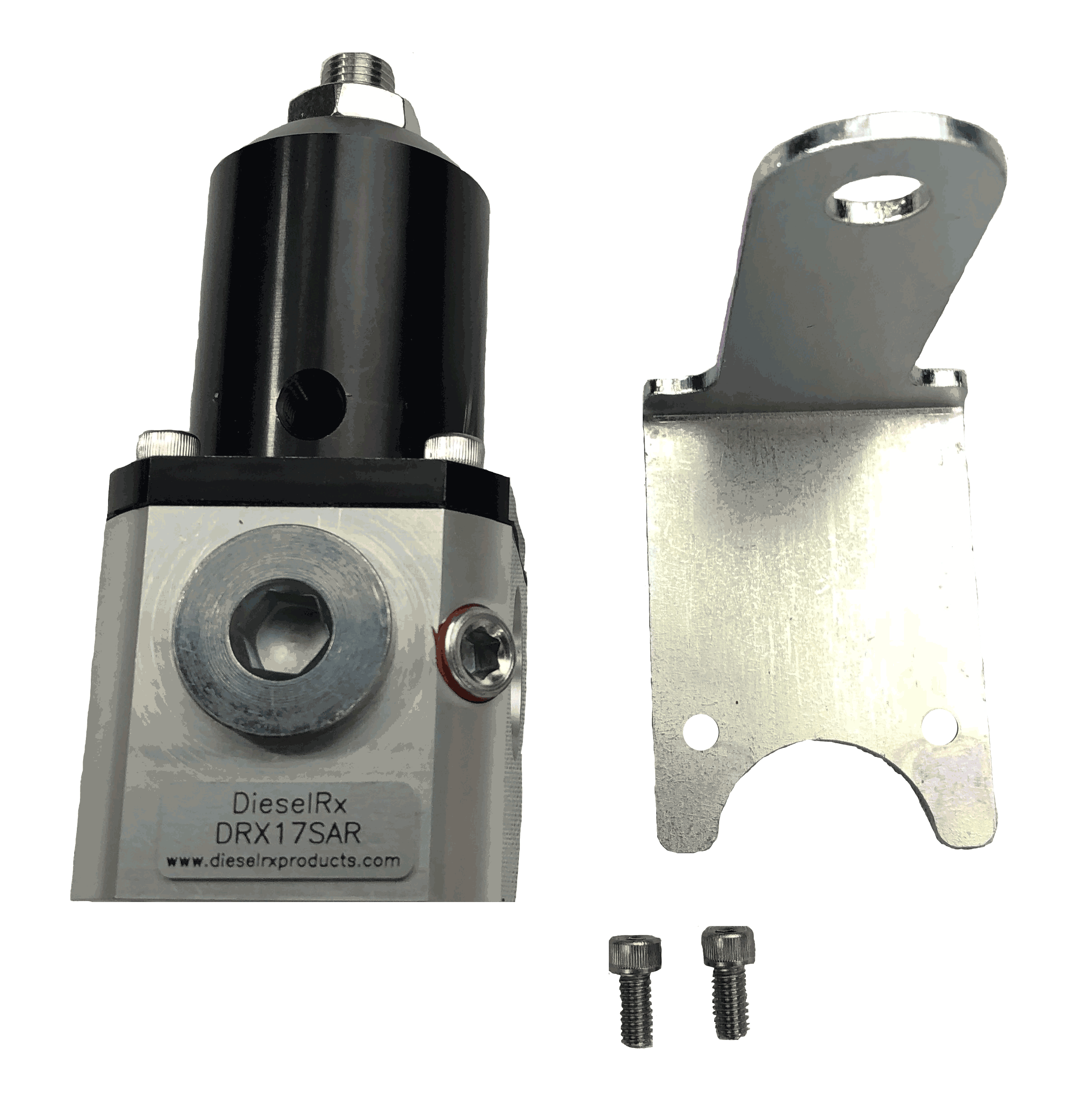 ---